If you're in Aubrey, TX and your sprinkler system is on the fritz, don't worry – we can help! Our team of experienced professionals is experts at troubleshooting and repairing all kinds of sprinkler systems. We'll have your lawn looking green and healthy in no time! So if you need Aubrey sprinkler repair, give us a call today! We're always happy to help!
Aubrey Residential Sprinkler Repair Services
You return home one evening from an enjoyable day at Team Family Farms to find a small lake in the middle of your lawn – apparently, your sprinkler system has a huge leak or some fixture has broken. Don't panic… simply turn off the water to the system and call your local Aubrey Sprinkler Repair.
Offering service that is unmatched in the industry, it is our passion to render quality service by tackling those troublesome sprinkler and irrigation issues for you.
In addition to our sprinkler repair services, we also specialize in sprinkler system tune-ups, sprinkler system maintenance, sprinkler system reroutes or area additions, rain/freeze climate sensor additions, and much more! Some additional services include:
▪Sprinkler control box replacement and repair
▪Fix or replace broken or leaking sprinkler heads or valves
▪Clean and repair clogged nozzles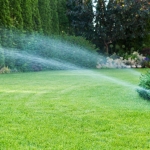 ▪Replace and repair damaged or faulty wires
▪Repair or replace broken pipes
▪Cap off sprinkler heads as needed
▪Adjust poor spray patterns to prevent wasted water
▪Wire/valve relocation
If you have a sprinkler system problem, our skilled irrigation specialists can either fix or replace it. We only use quality products for our sprinkler system repairs, ensuring your satisfaction.
Better Residential Sprinkler Repair
Aubrey Sprinkler Repair has offered superb residential sprinkler repair services.
Every homeowner who invested in a sprinkler system knows the value to the health and beauty of their yard. They also know eventually repairs are required as well. Equipment ages, breaks, leaks form from cracks in piping, or how easy it is to cut the grass and clip a sprinkler head.
Our full crew is ready and waiting to tackle any sprinkler repair you may present. As our technicians are equipped with the latest tools and training, we make repairs look easy. One call to Aubrey Sprinkler Repair and your landscape will be fixed to flourish!
Aubrey Commercial Sprinkler Repair
Every business owner knows any commercial property with a pristine landscape, sets the first impression of customer or future tenant alike.
Any number of simple maintenance issues could jeopardize that first good impression. But a call to Aubrey Sprinkler Repair will set us in motion, to fix that wayward sprinkler system, and restore your lawn to lustrous health. First impressions are simple to ensure, so hard to repair.
To Aubrey Sprinkler Repair, your local business is our local business, so let us ensure your property's sprinkler system is functioning correctly. (Call us to fix the problem while we suggest you take a break at our town's, Sharkarosa Wildlife Ranch or plan an outing at  the Museum and learn )
The Highest Service
Aubrey Sprinkler Repair promotes its business on providing premium sprinkler repair throughout the Aubrey area for homeowners and commercial property owners. Our reputation precedes us for being passionate at delivering high-quality service, taking that extra step to prevent potential problems, and all at affordable pricing. Scheduling a licensed technician is easy and our team works efficiently to resolve your problem as timely as possible.
Typical Irrigation Problems in Aubrey:
▪Sprinkler spray heads are set down, not spraying above the grass line.
▪Sprinkler spray heads are spraying areas that don't need water.
▪Zone valves are leaking or not closing properly, leaving water build-up around the spray heads or rotor heads.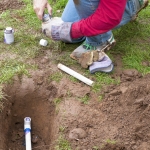 ▪Zone valves that are old and don't turn on or don't shut off.
▪Controller box or timer does not work properly because of poor wiring, a bad battery, or a faulty zone valve.
▪PVC pipes cracking or bursting underground.
If you suspect a leak or some other issue, call us right away. We will come to inspect your system, locate the source of the problem, and fix it quickly. Put our specialists at Aubrey Sprinkler Repair to work for you, and get the resolution done the right way.
Aubrey Drainage System Installation

Landscape Drainage Repairs And Lawn Drainage Systems
Drainage appears simple at first, but in most cases, a DIY project is not recommended. A professionally installed drainage system carries many advantages due to our experience in the business. Heavy or extended rainfall can easily lead to flooding, possibly endangering your home's foundation, creating areas of standing water, or soil erosion.
Aubrey Sprinkler Repair specializes in designing or correcting drainage systems, to help homeowners prevent flooding and water damage to lawn and home. Only an experienced technician should design and install a drainage system.
A professionally designed drainage system provides the following advantages:
▪Prevents soil erosion in and around your home's foundation
▪Prevents standing water which causes slippery surfaces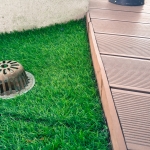 ▪Prevents mosquito infestation
▪Protects plants and trees, helping them thrive
▪Prevents your landscape from drowning
At Aubrey Sprinkler Repair, we consider every part and piece of the system, working as a whole, to give you a functioning drainage system based on science. With that approach, we can correct any drainage issue you may have.
No matter the style or type of drain, or some combination, we can determine the problem, discuss the best solutions, and professionally install your yard drainage system.
We will provide you with a detailed explanation of your drainage problem, along with a estimate, so that you know exactly what we will be implementing, and the cost involved.
▪Drainage Services
▪French Drains
▪Channel Drains and Grates
▪Yard Drainage Systems
▪Premium Drainage Systems
Aubrey  Sprinkler Repair is completely upfront about pricing. For our drainage services, we will provide you with a quote and ensure you understand our pricing structure. We are all Aubrey based businesses, and we believe in being honest with our community!
Aubrey TX

If you're looking for something to do in Aubrey, TX, you're in luck! This charming small town has plenty of activities and attractions to keep you busy. From parks and museums to restaurants and shopping, there's something for everyone in Aubrey. Here are the best things to do in this lovely town.
1. Visit the Aubrey FFA Museum and History Center: A visit to this museum is a must-do while in Aubrey! It features a variety of exhibits focusing on the history of FFA, which was founded in Aubrey in 1928. There are also interactive displays, artifacts, photographs, and more.
2. Shop 'til You Drop at Aubrey Antique Mall: This large antique mall is the perfect place to find unique items from days gone by. They have something for everyone, including furniture, jewelry, and home decor.
3. Take a Hike in White Rock Park: White Rock Park is a great spot for outdoor recreation. It features trails, a playground, and plenty of open areas to explore. It's also home to the Aubrey Public Pool, which is perfect for cooling off in the summer months.
4. Enjoy a Meal at Rodeo Mexican Grill: This family-owned restaurant is known for its homemade Mexican food. With delicious tacos, burritos, enchiladas, and more, it's sure to satisfy your cravings.
5. Check Out the Aubrey Public Library: The library is a great spot for kids and adults alike. It offers a variety of books, CDs, DVDs, and even ebooks. They also offer fun programs like story-time for children and game nights for adults.
No matter what you're looking for, Aubrey has something to offer. Plan a trip today and enjoy all the great activities this town has to offer!
Remember Aubrey Sprinkler Repair…
Some other Texas cities you'll find Mr. Sprinkler Repair Working On…
Eagle Mountain | Carrollton | Bacliff | Galveston | Dallas | Fort Worth | Kyle | Irving | The Woodlands | Wimberley